Talking With Neighbors About Race
After a post of "Black Lives Matter" on the church sign sparked community controversy, Trinity Lutheran Church seized the opportunity Sept. 9 to bring members and Lansdale neighbors together to talk about issues of race in the community.
"Even though this was not what we were looking for or what we wanted or expected, it was an opportunity to have a conversation," said Pastor Paul Lutz. "Tonight is to talk about why that slogan upset you so much and what might we do about it here in Lansdale."
More than 100 people turned out in response to the church's sign — "We heard you. Can we talk?" — and print, radio and television coverage of the controversy. The event was a model for congregations for how to network with the community to discuss "hot-button" issues.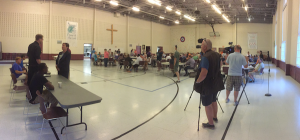 The program began with a panel of church members, community members and a representative of the Black Lives Matter movement sharing their perspectives on the sign, the ire raised by the slogan, and the state of racial discourse in the US. Anyone who wanted to speak was afforded the opportunity.
Lutz then asked participants to gather around their tables to introduce themselves and share their fears and hopes for the difficult conversations about race. The church provided guidelines for conversation that helped steer the conversation toward listening to one another rather than throwing barbs, which had occurred on the congregation's Facebook page.